Spring Break is just around the corner, and thousands of tourists are prepared to enjoy everything the Riviera Maya has to offer: culture, nightlife and a variety of fun activities for the whole family.
If you're looking for an unforgettable adventure, the Riviera Maya has options for everybody: climbing the impressive pyramids of Ek Balam and Coba, Jumping into a the clear waters of a cenote or visit one of the many adventure parks in the area.
Despite the widespread belief that all attractions are extremely expensive, there are also options for those who do not want to spend a lot. We have listed three amazing day-trips you can enjoy for free or almost free.
3 Affordable Day Trips in the Riviera Maya: Visit the Archaeological Sites
Traveling on a budget does not necessarily mean missing out on the best the Riviera Maya has to offer, as people say: the best things in life are free. Even in the Riviera Maya, some attractions like the beautiful beaches or archaeological sites are quite affordable.
Some archeological areas to explore in ​​the Riviera Maya are: Tulum, Coba and the little-known archaeological site of Xel Ha. Do not forget to bring insect repellent, sunscreen, a hat and light clothing, as well as comfortable shoes and your ID to get discount or free access.
3 Affordable Day Trips in the Riviera Maya: Visit Sian Ka'an Ecological Reserve
This is a little known destination, ideal for those who enjoy nature and off the beaten path destinations. Sian Ka'an is located south of the touristic area of Tulum, an area that maintains its rustic beauty; and offers its visitors beautiful views of the jungle, lagoon and beaches.
It is important to plan your trip carefully, as the road is unpaved and the area is more less uninhabited. Make sure to bring food and beverages, also do not forget to bring plenty of insect repellent, sunscreen and comfortable clothes as well as your camera.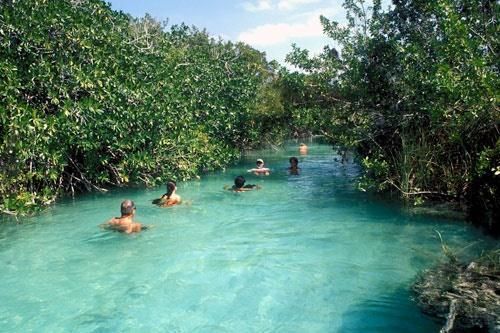 3 Affordable Day Trips in the Riviera Maya: Visit the Route of the Cenotes
There are thousands of cenotes distributed throughout the Yucatan, theses incredible natural pools carved in the limestone that forms most of the Peninsula. The cenotes are entrances to a complex system of underground rivers, and its clear waters are a sight not to be missed.
The Route of the Cenotes is located on the road between the town of Puerto Morelos and Leona Vicario. The entrance is quite visible and is located on Federal Highway 307 (Cancun-Tulum), just enter the arch and keep driving. This area has many cenotes, and you can visit them for a small fee.
We hope you enjoy your visit to the Riviera Maya, here you will find many fun adventures at a low cost. If you think that we forgot another affordable day-trip destination, let us know! We are always looking for interesting places to share with our readers!
Mexico Relax is your source of information on everything related to the Riviera Maya. If you liked this article and want to read more about this beautiful region,  like our Facebook page or follow our blog.