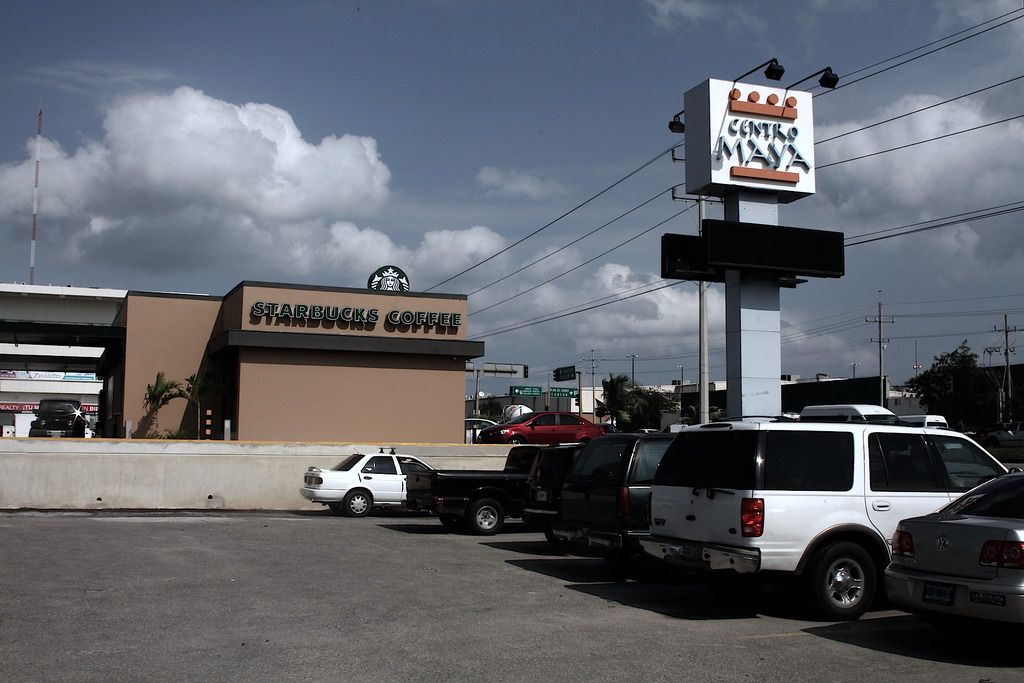 Centro Maya is one of the favorite shopping destinations in Playa del Carmen. This is not surprising as this shopping mall has a good variety of shops, entertainment, food and more. When it comes to find your favorite shops, watch a blockbuster, make bank transactions or simply enjoy a good meal or an aromatic cup of coffee Centro Maya is the place for you!
Centro Maya has an excellent location, on the corner of the Federal Highway (Cancun-Tulum) and the extension of the 115 ringroad. This allows access in an easy and quick access, and the shopping center also has a huge free parking lot.
No matter what you're looking for, Centro Maya is the place to make all your purchases! If you want to get a taste of that you will find in this modern shopping center, read our article.
Centro Maya: SuperMarkets
Some of the shops you'll find the Centro Maya are Soriana Supermarket and City Club, a wholesale club. Soriana has a variety of imported beers, as well as a large section deli and imported US products.
Centro Maya: Furniture
The mall has two furniture stores,  Coppel and Elektra. In them you will find furniture, appliances, TV sets, computers, motorcycles and much more.
Maya Center: Boutiques
If you love fashion, within Centro Maya you will find a wide variety of specialty boutiques, such as Quarry Jeans, Sasha, Wayan and even an outlet store where you can find designer clothes at very competitive prices. There are also two shops specializing in bathing suits, where you will find the latest look at great prices.
Centro Maya: Restaurants
If you want to enjoy a delicious meal, a snack or some fast food you will find several restaurants like Hot Baking Company and McDonald's. The mall also has a fast food area with delicious choices for every taste and budget: Subway, El Burro Playero, Taco City, etc.
Maya Center: Health Services
As for health services, you'll find the popular Farmacia de Similares just outside the mall. There is also a Foot Care specialized center, where you can get a range of services for diabetic foot care, ingrown toenails, etc.
Maya Center: Financial Services
Centro Maya has branches of major banks such as Scotiabank, Banamex and Bancomer; also Bancoppel, Elektra and Soriana offer financial services such as deposits, withdrawals and money transfers by Western Union.
Centro Maya: Directory
If you want a closer look at some of the shops you can find in Centro Maya list, you can take a look here!
Soriana
Cinemex
Outlet for clothes and shoes
City Club
Mechanical workshop
Starbucks
McDonalds
Hot Restaurant & Coffee
Coppel
Electra
CarWash
Modatelas
Bancomer, Scotiabank, Banamex
Sally
Jackpot Casino
Marti
Zingara
Quarry
Style Me Up!
Flexi
Rojo Canela
Multimarcas Outlet
Subway
El Burro Playero
Baskin Robbins
Wayan Natural Wear
Sunglass Island
Shasa
Upscale Baby
Watch my Watch
Hot Baking Company
Personalika
Nutrisa
Telcel
Iusacell
Buying a home that is close to services and amenities makes life easier, and a mall like Centro Maya provides convenience and a great location. It will make your shopping and leisure time easier to manage since they can be done in one place. If you´re thinking about investing in property in Playa del Carmen you´ll find Centro Maya to be an important part of your everyday life.
If you want to know more about this great neighborhood contact a buyers' representatives today.