The Yucatan Peninsula has a wonderful ecosystem, full of great and unique locations. One of the highlights of the area are definitely the cenotes. These natural pits or sinkholes resulting from the collapse of limestone bedrock, usually exposing groundwater underneath, can be a great option for swimming, snorkeling, scuba diving, relaxing, or simply admiring.
There are several cenotes along the Peninsula, of various kinds and sizes. Most of the area around the Riviera Maya is flatland, so the water flows underground; you'll find great spots within the jungle to jump into these fresh water wells and cool down.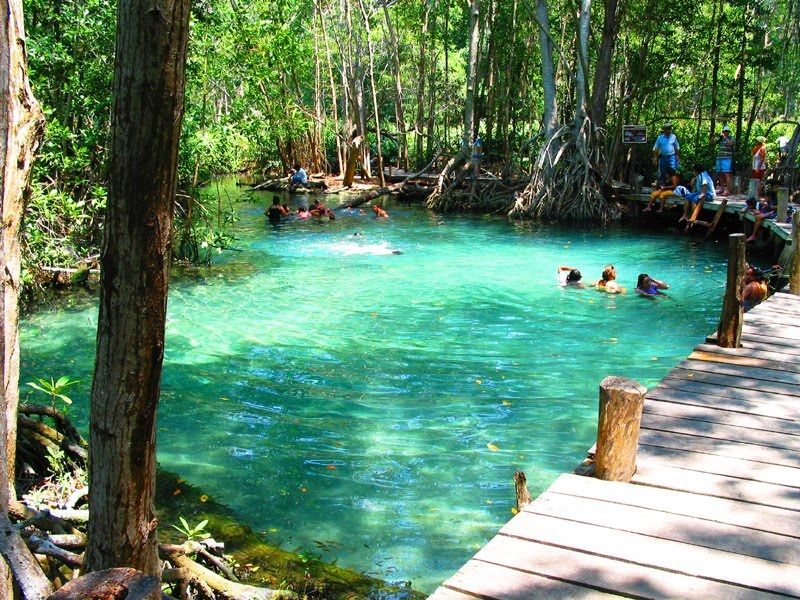 A lot of these cenotes are located around the Riviera Maya zone; some are open and others are mostly closed like caves and semi-flooded underground rivers. In them you can find stalactites, stalagmites, and different kinds of speleology formations.
Most cenotes in the area have an entry fee that may vary because of the location or the facilities such as bathrooms, showers, chairs, zip lines, ropes to jump in with, and more. You can find a few more options along the highway that goes from Playa del Carmen and Tulum.
Some of these natural sinkholes are so deep that you can scuba dive; speleologists and cave divers are in constant research, journeying along these natural underground rivers trying to solve mysteries and make new discoveries. It's hard to believe how all these cenotes are interconnected! If you can experience this, you will feel like you are in a whole other world; in an amazing journey.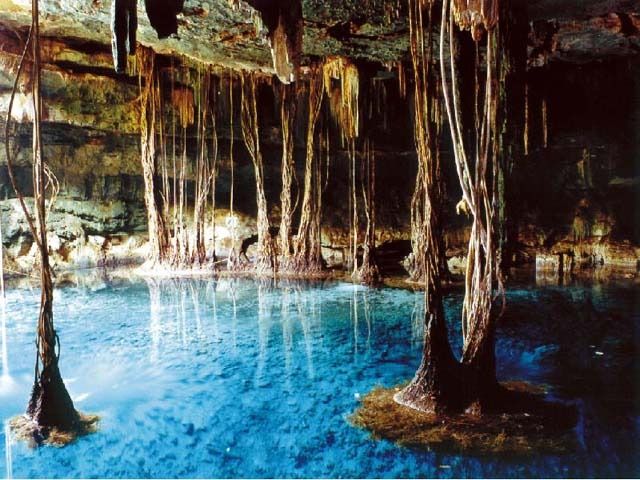 For the Maya, cenotes were sacred. They are also often related to the sacred Maya tree known as "La Ceiba". Its roots grow deeper into the ground so it can reach a better source of water, being partly the cause for the collapses happening in the limestone grounds and, hence, creating the cenotes.
The ancient Maya had the belief that this was a way to be connected with the gods of life and death. These can lead to important places where sacrificial offerings took place. Discoveries have been made inside the cenotes leading us to believe that the ancient Maya had a respectful and depending bond with these cenotes, being the main source of fresh water in the area, as well as a shelter during heavy rain or wind.
The water in the cenotes is often very clear; they tend to be great locations for snorkeling, attracting cave divers and tourists from all over the world. Divers have been documenting extensive flooded cave systems throughout them, some that have been explored for lengths of 100km (62 miles), or more. Data is constantly changing due to new findings and all the changing conditions of the water levels.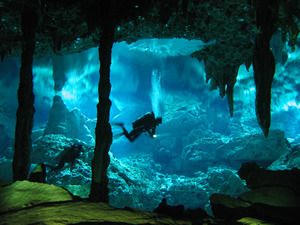 These wells are still the main source of fresh water in the area, which is why protecting and preserving the ecosystem is important. We have to be conscious about the impact of the activities around these locations because it will destroy the complex ecosystem that has been forming for thousands or millions of years.
If you are visiting the Riviera Maya for a few days, you should consider visiting at least one cenote and enjoy this experience. However, don't judge all by one, because each cenote is different and unique!
Stay tuned for a follow up blog about our favorite cenotes in the area and why you should visit each one of them!
Mexico Relax is your one-stop website for everything in the Riviera Maya. If you are looking for your perfect paradise property, contact us! We have thousands of options, from beachfront condos to 5th avenue condos and cabins. Let Mexico Relax be your one and only guide to everything Riviera Maya.