If you are stuck indoors due to the rainy season in the Riviera Maya, why not try something amazing? If you are in the Riviera Maya, you must visit Dos Ojos Cenote. This beautiful place is located only 8 miles north of Tulum and 30 miles south of Playa del Carmen, and swimming in its incredible clear water is one of the most amazing life experiences.
Dos Ojos Cenote is the second largest cave system in the world, with approximately 50 miles of caves explored so far. Dos Ojos Cenote is the main system that provides the water that ends up in the famous Xel-Ha Cove, in the Mexican state of Quintana Roo.
What makes this underground river so special is its stunning transparent water, and the amazing formations of stalagmites and stalactites. These formations cannot be formed under water, so we know that at one point many thousands of years ago; these spectacular caves were not flooded.
Dos Ojos Cenote is an excellent place to practice snorkeling or diving. If you have never dived before there are plenty of companies that will offer you the proper training to be able to visit this magical place.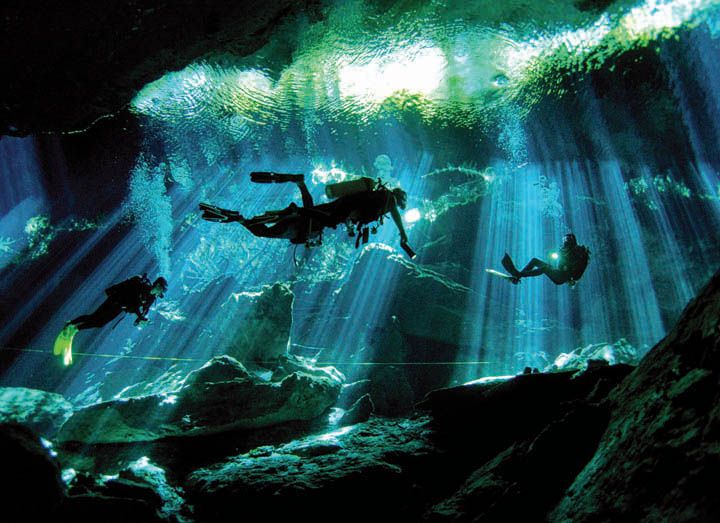 Dos Ojos Cenote: Getting There
If you have a car, you need to take Federal Highway 307, follow the signs for Xel-Ha, as it is located very close to Xel-Ha. Once you are close to the park start looking for the entrance, which is going to be located about a mile south from the entrance for Xel-Ha, on the opposite side of the highway. Once you are off the 307 Federal highway, you are going to take the road for about three miles.Try to drive slowly as sometimes is it possible to see some of the local fauna: Spider monkeys, coatis, and deer are some of the animals that live in the area.
Dos Ojos Cenote: General Information
Dos Ojos Cenote is open daily from 8:00 AM to 5:00 PM and it has a general admission fee of 100 MXN Pesos, about 7 USD. The price for people interested in Snorkeling is 300 MXN Pesos (20 USD) and 700 – 1200 MXN Pesos (45- 78 USD) for Scuba tours. If you want to see more specialized packages or multiple-day courses click here.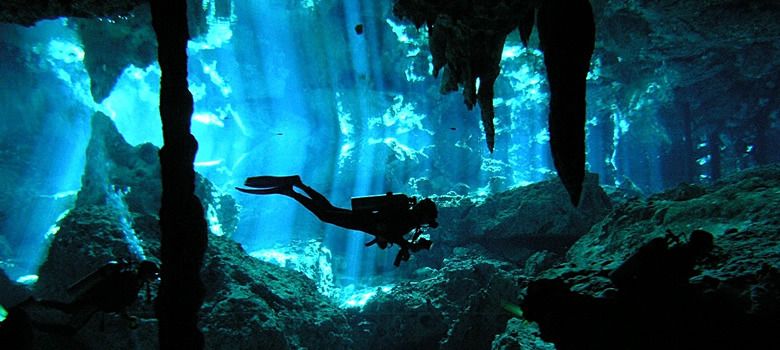 This Cenote has a parking lot, bathrooms, showers and dressing rooms to use before and after entering the water. It is important to rinse before entering any cenote or underground rivers, as the chemicals in our body products (suntan lotion, repellent, hair products, body lotion, etc.) can damage the quality of the water as well as the stalactites and stalagmites.
There is no restaurant in the area, so if you are planning to stay all day or more than a couple of hours it is important to bring food and drinks with you. Another important thing is to bring water shoes, as they will help you get in and out and walk on the wet areas safely.
Mexico Relax aims to provide the best information about the Riviera Maya, if you are planning to visit or move to this magical area; please follow our blog. We are a team of people living in the area, and willing to share our experience with you!