Passenger Buses Playa Del Carmen
Bus services in Mexico are safe, fast and efficient. If you are looking to travel between different cities in the Riviera Maya or the rest of the country, travelling by bus is an excellent choice.
It is important to know that in Mexico, buses are rated according to the quality of the service; so it is better to pay a little more for the Luxury or First lines. Some of the advantages are that the bus has no intermediate stops and some amenities on board, such as bathrooms, flat screen televisions, complimentary beverages, and more legroom for greater comfort.
In Playa del Carmen there are two ADO bus stations
Terminal Alterna: Fifth Avenue and Avenida Juarez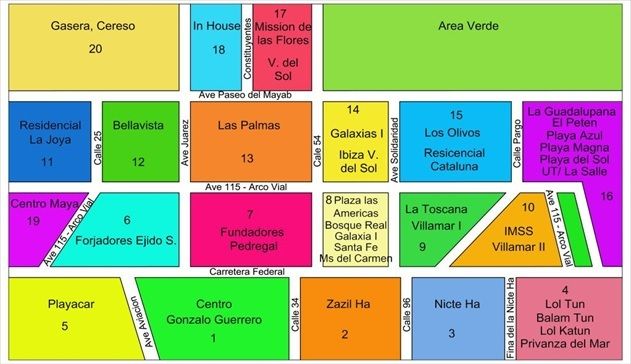 This terminal offers bus services to other points within the Riviera Maya and Yucatan: Merida, Cancun, Tulum, amongst others.
Terminal: 20 Avenue corner 12th Street
This is the main terminal, offering destinations to other cities in the Riviera Maya and most of Mexico. They also have the Luxury line, first and second class.
More info:
www.ticketbus.com.mx/wtbkd/index.jsp
www.ado. com.mx/ado/index.jsp
Toll-free telephone: 01-800 009 9090
Taxi Service:
You will spot the white and turquoise taxis everywhere: on 5th Avenue, outside the supermarket, and in many other destinations in the Riviera Maya. Taxis in Playa del Carmen offer a cheap and reliable service, although you can always find yourself with a bad driver or someone wanting to overcharge.
Because of this, we make the following recommendations:
Clearly explain your destination and ask for the cost of the trip

before getting into the car.

Make a mental note, or take a photo, of the taxi number painted in the back or side of the car. If you run into any trouble or you forget something in the car, it is easier to locate the driver.
Remember that taxis in Playa del Carmen

do not have meters

, so make sure to set the price of the trip beforehand. You will find that even if you take cabs for the same destination on a daily basis, sometimes a driver may try to overcharge.
Although there is an official chart with the rates, this is rarely visible in the cab. Check out our handy rate chart to have an idea of the official cost of your trip, and don't be afraid to ask your driver to show you the official chart.
Prices can be negotiable, occasionally. If you are planning a trip to the airport, one of the parks, or other destinations outside Playa del Carmen, make sure to "shop" around. Some taxi drivers may offer a discount, so do not hesitate to ask.
If your hotel is located at a considerable distance from Playa del Carmen, taxi transportation costs can be very high. Compare prices to plan your trips or outings. Consider renting a car; it might be cheaper in the long term.
Map of the areas in Playa del Carmen and Rate Table Taxis
Vans Shuttle
Playa Express:
Playa Express is a service that connects the cities of Cancun and Playa del Carmen; it offers a fast and efficient service in comfortable Mercedes Benz vans. The service can be compared to the ADO buses, although these vans travel with fewer passengers, at higher speeds, thus reducing the traveling time.
These vans make stops in Puerto Morelos and Cancun. The station in Cancun is near the ADO bus station, but you can also request to stop at Plaza las Americas.
Playa Express Station:
2nd Street between Avenues 20 and 25
Downtown, Playa del Carmen
It is also possible to take the van on the Highway 307, but if you travel during peak hours it is likely that the vans are full and won't stop for anyone else. Only pay once you have boarded the van and remember to keep your ticket.
Collective vans from the Taxi Drivers' Union:
"Colectivos", which are collective vans, are popular among locals. These are smaller vans that may or may not have air conditioning. They make different stops on the highway, depending on the passenger's destinations.
The routes offered are Cancun – Playa del Carmen and Tulum – Playa del Carmen, but they can stop at any other population, park, or hotel. Some of the main stops are:
Cancun
Puerto Morelos
Playa del Carmen
Akumal
Chemuyil
Tulum
It is advised to let the driver know where you need to stop in advance, especially if you do not know the area. You can also ask some other passengers to let you know when you are approaching your stop.
This map shows some possible stops of the collective vans:
Urban bus/ Public transportation:
This service is targeted mostly to serve locals; however, it is a cheap way to travel from one place to another within the city.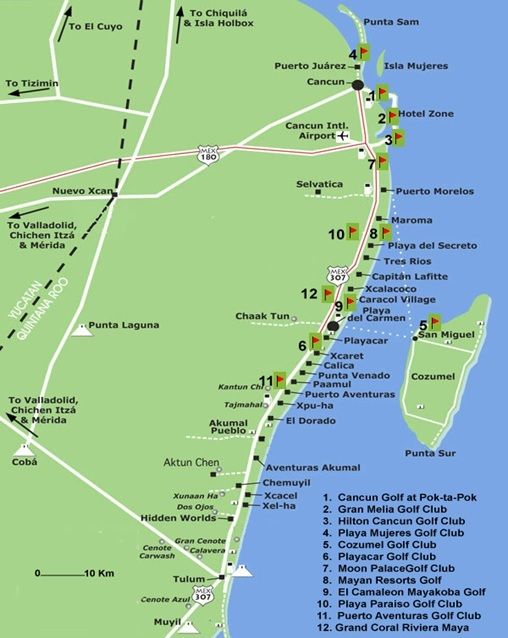 The service is provided by the company TUCSA, using buses or vans; usually, they don't have air conditioning and can be full during rush hour.
Public transportation/ buses routes in Playa del Carmen
Mexico Relax is your local expert on everything Riviera Maya. If you are looking for the home of your dreams, we can help you find it! We have thousands of properties, from a condo on 5th Avenue to a beachfront home or cabin!