The Riviera Maya has beautiful beaches, ideal to bring your little ones. The soft powdery sand, shallow waters and the lack of waves in most of its beaches; makes them ideal for kids of any age.
Children love the beach, and you can bring even the youngest member of your family, just be sure to take certain precautions. The summer is a great time to enjoy swimming and playing in the sand, just make sure to ensure your baby is safe.
Remember to keep an eye on your baby at all times, and avoid visiting the beach in the middle of the day; even if you are sitting in the shade. Keep in mind that babies cannot regulate their temperature very well. Keep your baby hydrated and cool, as heat stroke is a real risk.
Taking Your Baby to the Beach: FAQ's
At what age is it safe to take my baby to the beach?
Remember, if your baby is less than six months old, they should not be exposed to direct sunlight.  If you take your baby to the beach or pool, remember to stay in a cool, covered area. Dress your baby in light cotton clothes.
If your baby is over 6 months old make sure to have swimming diapers, a swim shirt and a hat to protect their face. Make sure to keep your baby safe and remember to rinse your child after, to avoid skin rashes caused by the chlorine or salt water.
Is it safe to use sunscreen?
Sunscreens is not recommended for young infants, because they can cause irritation and allergies. Moreover, the sunblock can be swallowed as babies constantly put their hands in their mouths.
If possible find a biodegradable natural sunscreen that is water resistant, apply thoroughly covering ears, neck, nose, top of their feet and reapply every 2 – 3 hours. If you want to look for organic products, it might be easier to purchase these products before your arrival, as the available options in Mexico are limited.
Always check the expiration date and dispose of your sunscreen if you notice that  the ingredients are 'separated' (oil on one side and water on the other), compacted or cracked. An expired product might have less power to block the sunrays, causing burns or irritated skin.
What are the best swimming clothes for my baby?
The best way to protect your baby's delicate skin is to use as many physical barriers to block the sun, as in shirts, hats, sunglasses, umbrellas, etc. These layers act like a barrier that block ultraviolet rays and protects the skin and eyes.
You can find these clothes in specialized shops and even in local supermarkets. There are many brands on the market that offer swimwear with sun protection, make sure to buy the best quality as they can last longer.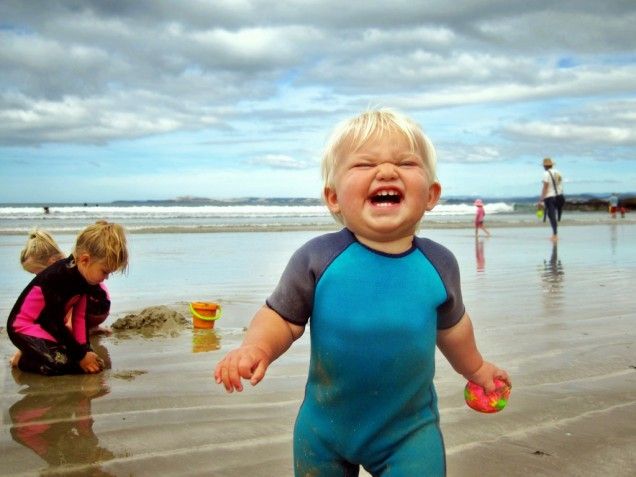 What about sunglasses?
Please note that water and sand reflect UV radiation, so it is important to protect your child's skin and eyes. There are many styles available, check to make sure they block UV rays and fit your kid comfortably. Also try them on your child to make sure they won't pull them or throw them on the floor.
Is it worthy to buy beach toys?
Some hotels and restaurants on the beach have some available toys for the kids, it is also possible to find cheap beach toys at grocery stores in Cancun, Playa del Carmen and Tulum.  If you are planning a long stay, maybe it is worth it to buy some toys to keep your kids entertained, otherwise nature does a great job providing materials to build and play with.
The Riviera Maya is a great destination for families, we are sure you will enjoy its beautiful beaches, mysterious cenotes and amazing Mayan pyramids. Let your children enjoy the beautiful turquoise waters of the Mexican Caribbean and build everlasting memories.
Mexico Relax is a team of people living and loving the Riviera Maya, we share our insight to make you feel welcome and experience everything this beautiful region has to offer its visitors and residents. If you like this article, visit our blog or better yet subscribe to our feed!