The Mesoamerican Reef is the second largest reef system in the World, just behind the Australian Great Barrier Reef. It extends for over 600 miles off the coast of Honduras to the northern tip of the Yucatan Peninsula. The Mesoamerican Reef is home to a great diversity of species of algae, invertebrates and fish.
A reef is formed by coral and rock structures, in marine shallow waters near the coast. Reefs are closely linked with other ecosystems, as these large coral or rock structures change the direction and speed of ocean currents. They also aid in establishing other coastal ecosystems such as mangroves and seagrasses.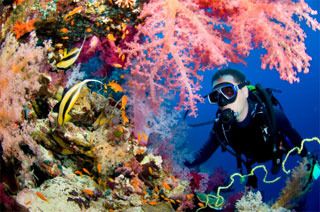 The Mesoamerican Reef: Different Kinds of Reefs
Coral Reefs:
The bodies responsible for the formation of the coral reefs and its basic structure, are the coral polyps. These small animals live together in colonies of thousands of individuals called coral.
Coral Reefs are classified into:
Coastal Reef: shallow waters along coast, separated by a narrow strip of shallow water
Barrier Reef: arranged parallel to the coast, but far from the coast, and are almost always separated by a channel which may in some cases be up to 100 meters deep.
Reef Platform: are flat and elongated in its upper part, this is due to the action of winds and currents.
Atolls: rings of coral islands, which are generally found in the open sea and are associated with volcanic cones.
Artificial Reefs:
There are artificial reefs being made of blocks of large rocks, ship and plain wrecks and other structures. These artificial reefs provide shelter and substrate many invertebrates and vertebrates, including the corals themselves. The creation of artificial reefs serves to reduce pressure on natural reefs and create more places of refuge. Breeding fish act as settlers from other sites and it also creates alternative sites for diving.
The Mesoamerican Reef: 3 Places to Visit
Over 70 species of coral can be found in the Mesoamerican Reef, and every year over a million of divers visit the area to see these marvelous creatures. If you are interested in visiting the Mesoamerican Reef, here is a list of the best destinations to dive or snorkel.
Parque Nacional Arrecifes de Cozumel:
Cozumel is one of the best destinations in the world to practice snorkeling and diving.  The water temperature is always pleasant and the visibility can be as much as 40 – 50 meters. Another advantage is that the beaches of Cozumel allow introductory diving lessons to be held in open water, which is much more fun than learning in a pool.
Certified divers can find multiple options according to their skill level, whether novice, intermediate or advanced. Both natural and artificial reefs can be found in Cozumel as the Mexico Navy sank there gunboat C-53 named Felipe Xicoténcatl, just south of Chankanaab beach.
Reserva de la Biosfera Banco Chinchorro:
This atoll is located 22 miles east off the coast of Chetumal, with an extension of almost 30,000 acres.  Banco Chinchorro is surrounded by a barrier reef, which is submerged only 60 inches making it ideal for snorkeling.
There was a lot of pirate activity in the area, which caused plenty of shipwrecks. Over time these vessels have formed flourishing ecosystems with different species of coral and colorful fish.
Parque Nacional Arrecifes de Xcalak:
This small fishing village is located on the southern tip of Quintana Roo State, in the municipality of Othón P. Blanco, Quintana Roo. Xcalak is an ideal destination for those looking for an unspoiled paradise, far away from the noise and the crowds of destinations like Cancun and Playa del Carmen.
The reef is located only a few meters away from the beach, and it is ideal to practice activities like snorkeling, diving and fishing. The government and local residents have made a huge effort to preserve this area, so there is very little development.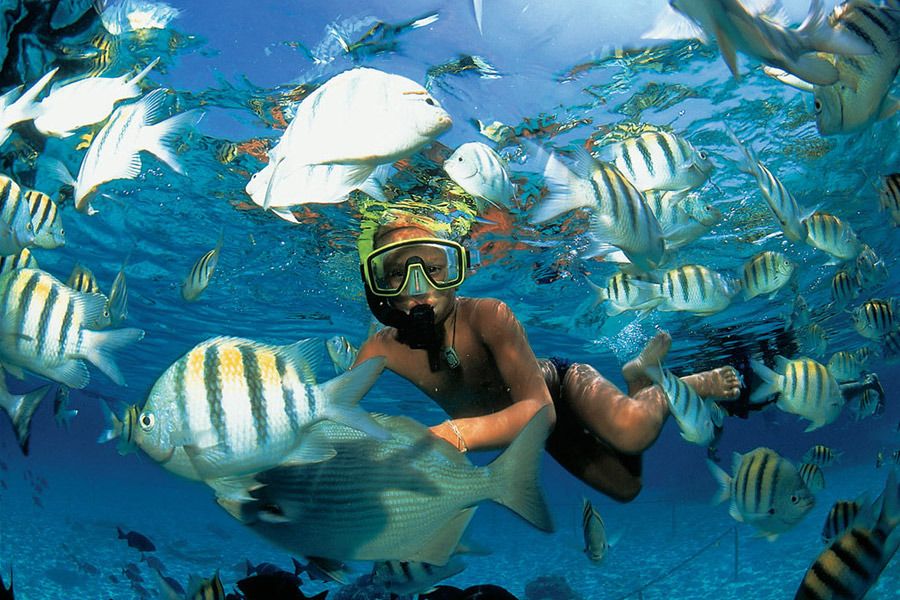 Coral reefs are home to great marine diversity, be ready to see all sorts of molluscs, crustaceans and colorful fish during your visit. Our suggested destinations have crystal clear waters, great visibility and a mix of natural and artificial reefs.
Mexico Relax is your go to website for everything Riviera Maya. If you are looking for your dream home in paradise, you can take a look at our thousands of options – from condos to villas, from houses to beachfront properties, we have everything you need!
Mexico Relax: your one and only stop for everything Riviera Maya!