Turtle season is finally here! Every year from May 1st until October 31st, the turtles visit the Riviera Maya. These enigmatic creatures come by thousands to spawn off the coast of the Yucatan Peninsula and Quintana Roo, but there is one particular destination they are attracted to: Akumal Bay.
Akumal in Maya means Place of the Turtles, and this is no coincidence as these beautiful creatures inhabit this place for half a year and can be easily seen swimming in the bay or near the Yalku Lagoon.
Turtle Season 2015: Akumal and Its Turtles
If you love turtles or you are just curious, Akumal is the best place to learn more about these ancient species. There are seven known species of sea turtles in the world, three of which can be found in the bay of this beautiful little town. The three species that can be found in the area are:
Loggerhead turtle (Caretta caretta)
Adults weigh from 200 to 400 pounds and grow up to 4 feet long, this species feeds mainly on crustaceans such as crabs and snails. Nesting season is between April and July, and the females nest 3 – 7 times each season, with approximately 120 eggs in each nest.
Green turtle (Chelonia mydas)
Adults weigh between 200 – 500 pounds and grow up to 4 feet long, this species feeds primarily on seagrasses. Nesting season is between June and September, and the females nest 3 – 7 times a year and each nest contains between 120 – 150 eggs.
Hawksbill turtle (Eretmochelys imbricata)
Adult hawksbill turtles weigh about 160 pounds and measure up to 3 feet long, this turtle is known for feeding on toxic jellyfish. Note that this species does not reproduce in this area, but some specimens can be seen at the bay.
Turtle Season 2015: Tours
Snorkeling With the turtles in Akumal
Akumal Bay has clear calm waters, allowing people with no previous experience to snorkel. Snorkeling lets you to discover not only the turtles but other marine animals that live in the area such as fish, stingrays, lobsters, starfish, etc.
Access to the bay is free, so you really don't need to pay for a tour to enjoy this activity. There are shops that rent out snorkel gear in Akumal Bay and several restaurants in the area to have lunch or a drink at.
However, if you choose a tour it is likely to include transportation, equipment, and a knowledgeable guide that can tell more about the history and nature of these beautiful animals. Some tours even offer a delicious meal after the tour. We checked with the Akumal Dive Shop, there tour is an hour long and includes a guide, snorkeling equipment, showers and lockers for $31 USD a person.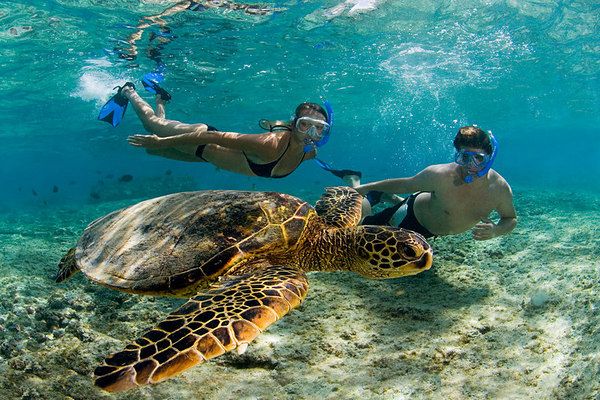 Turtle Season 2015: Volunteering
If you want to enjoy the sea turtles and also make a difference in preserving this species, perhaps you would be interested in becoming a volunteer. There are two local programs that allow you to support the efforts to conserve the sea turtles.
Both programs require volunteers to be fit and willing to work physically. Candidates must be able to work together with people from different parts of the world.
Requirements to participate are:
CEA AKUMAL
This center has limited spaces and receives a lot of applicants, it is important to review the requirements and apply early. Volunteers are also required to pay a fee to participate and must speak at least two languages.
21 years of age or older
There is a selection process, NOT all applicants are accepted.
Two month commitment is the minimum stay
There is a monthly fee that helps cover costs 200 USD (foreigners) 100 USD (Mexicans).
Passport and Temporary Resident visa for the duration of your stay.
Have health insurance.
If you want to know more about this program click here.
Fauna, Flora y Cultura de Mexico A.C.
This organization is a bit more flexible and does not require payment for participating, however you have to be in good physical condition, have ability to work as a team and be willing to volunteer for a minimum of one month.
If you would like to volunteer for this program, here are some of the requirements:
Willing to work as a team
18 years of age or older
Be positive and responsible.
Be enthusiastic and adaptable to unexpected situations.
Feeling comfortable in rustic conditions and remote locations.
Willingness to get along with people from different countries and cultures.
Have excellent physical condition with the ability to walk for several hours at night and / or day.
Resistance to perform physical labor under conditions of intense heat and / or rain.
If you want to know more about this and other programs through this association, click here.
Remember, the 2015 turtle season runs from May 1st until October 31st, so you have enough time to participate in recreational or preservation activities. If you do not have time to participate, you can make a donation through the website of any of the associations listed.
Mexico Relax is the best source of information about the Riviera Maya, if you want to know more about the turtles and other local species we invite you to follow our blog.