Measuring up to 12 meters (41ft), and weighing up to 20.6 tons, the whale shark is the largest known fish species in the world. Not actually a whale, but a filter-feeding shark, these animals may be large, but they are as gentle as they come. Because of their size, they have a large menu range where to choose from. Luckily for human beings – and many fish in the ocean – their favorite meal is plankton. That's right…the largest non-mammalian vertebrate feeds on the tiniest algae possible.
Commonly known to live up to 70 years of age, these spotted, calm swimmers love mainly hanging about tropical and warm areas throughout the world (don't we all?). Their feeding migration routes take up many amazing destinations in the world such as South Africa, Belize, Honduras, Western Australia, and the Philippines, amongst others. In Mexico, they are commonly found (during season) in Baja California and the Yucatan Peninsula (mainly Isla Mujeres and Holbox).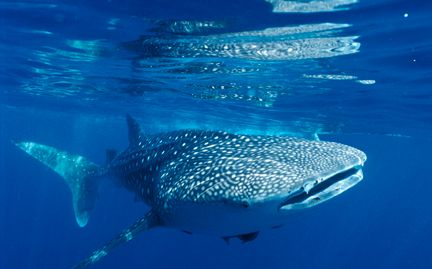 Whale Shark Season, as it is commonly referred to throughout the Riviera Maya, opens on May 15th of every year, but the best time to take a tour is between June and July when you can see hundreds upon hundreds of the humongous docile fish passively swimming and feeding on tiny plankton and any unlucky fish that may be hanging around. By mid-August, the whale shark population seen throughout our tropical and Caribbean waters is reduced to the very last few while they migrate in search of food.
Due to the heavy tourist congestion in the past, causing damage to the ocean and the sharks, the Mexican conservation authorities have issued a reduction in the amount of tours available, making it even more important that you book in advance.
Most tours offered around Cancun, Holbox, Playa del Carmen, and elsewhere, provide mostly the same services. The prices range between $150 – $230 USD (depending on the company and services).
This is what you can expect most tours to include:
Round trip transportation from Playa del Carmen, Tulum or Cancun
Bottled water and soft drinks
Ceviche for lunch
Snorkeling gear
Bilingual guides
Wetsuits or life jackets
Swimming with whale sharks
Snorkeling in Isla Mujeres
When purchasing a whale shark discovery tour, make sure you check out the company you are buying through. Because of the cut down in tours, many pirate boats go out and don't offer the same quality service you would expect to receive in return for the high prices. They are also working against the law and damaging the whale shark environment. Don't be afraid to check that their papers are in order and that you will receive a five-star service in an authentic tour.
Also, keep in mind that these tours are all out on a boat and there is a lot of waiting around for the sharks to show up, for them to open their mouths (that is when they are feeding and when guides ask you to jump into the water), for other people from your boat get their turn, and more. Remember to bring a seasickness remedy with you if you suffer from seasickness, as you will not enjoy the tour otherwise.
Here are some other things that are commonly recommended that you bring with you when snorkeling with whale sharks:
Towel
Biodegradable sunscreen (which you should apply at least half an hour before the tour starts so that your skin has time to absorb it and it doesn't damage the ocean)
Sunglasses and/or hat
Comfortable sandals
Money (remember that the boat crew receives tips in return for their services)
Waterproof camera* – you don't want to miss out on documenting these gorgeous and amazing animals!
*Some companies will offer video and photo services for an extra price.
Now you know not to miss out on the amazing experience of swimming with the gentle giants of the sea. Whale shark season runs from mid-May to mid-August, but remember that June and July are the best months to visit!
Just like the whale sharks mesmerize you, they are also intrigued and amazed by you…remember that you are in their home and you should respect them and the ocean. But most importantly, enjoy yourself and the lifetime experience that this entails!
Mexico Relax is your go to website for everything Riviera Maya! If you are looking to settle in paradise, check out our real estate options. We have cabins, condos, penthouses, patio homes, and much more.
Mexico Relax: your local expert on everything Riviera Maya!