The Riviera Maya is known for its beautiful beaches, lively nightlife and the mystical archeological sites. However, there is much more. It´s also an ideal destination for Yoga lovers, not only with a great diversity of places to practice but also with affordable retreats and teacher training courses.
So next time you are looking for a perfect mix of relaxation and deepening in your Yoga Practice, consider visiting any of the amazing destinations in the Riviera Maya: from the chic and cosmopolitan Playa del Carmen, to the low-key rustic beauty of Tulum. There is something for everyone.
If you want to explore some of the places to practice Yoga in the Riviera Maya, here is a list of some of the favorites. If you think we a missing a place please let us know!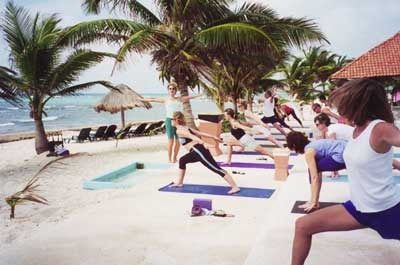 Yoga in the Riviera Maya: Yoga by the Sea
Rooftop of the Soho Hotel
10th Ave and Calle 24
Playa del Carmen
Phone:+52  (984) 876 2653
If you love the beach and Yoga, Yoga by the Sea might be the place for you. Located in the heart of Playa del Carmen it´s only steps away from the famous 5th avenue, the beach and all the attractions of the Riviera Maya.
This school has served the area for over a decade and is a favorite among locals and visitors alike. Yoga by the Sea is also accredited with the Yoga Alliance®, with a team of highly trained and specialized teachers offering world-renowned yoga classes and teacher training, as well as many other personalized options.

Yoga in the Riviera Maya: TAO Wellness Center
Bahia Principe Residential Complex
Akumal, Mexico
Phone:+52  (984) 875 5007
Located in the beautiful Akumal, just between Playa del Carmen and Tulum, Tao Wellness Center is located in the Bahia Principe Resort. It´s surrounded by the jungle and has direct access to a beautiful golf course.
Tao Wellness Center has many health services, a fully equipped gym and a lap pool. You can also find a Spa, juice bar, and steam room  inside of beautiful Caribbean inspired architecture that allows the breezes to come through the space.
Yoga in the Riviera Maya: Amansala Tulum

Tulum, Mexico
www.amansala.com
If you are looking for a popular yoga destination with beachfront facilities and the best yoga and fitness retreats then look no further! Amansala is a popular retreat for your body, mind and soul and has three different locations in Tulum, all of them with wonderful rooms, amenities and stunning views. You can visit their website and book your favorite package: Beach'n Bliss, Destination Detox or the ever popular Bikini Boot Camp.
It doesn't matter if you are a beginner or a long-time practitioner; the Riviera Maya will have a class, retreat or teacher training course ideal for your experience, style and budget. Each of the destinations in the Riviera Maya have a different vibe, which will allow you to pick the best for your taste and personality.
Mexico Relax is the best source of information about the life in the Riviera Maya, if you want to keep updated on the latest events, please like us on Facebook or follow our blog. Also, if you consider we left a Yoga venue that needs to be mentioned, please let us know and we will make sure to add it to our next Yoga post.